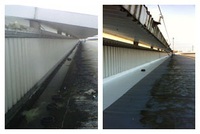 This Tesco Extra roof in London area was designed with the falls along a 200m long open drainage channel.
An overhanging metal profile roof also drained into this channel adding to problem.
There was only 4 drainage outlets along the complete 200m run, with poor falls to the drainage outlets resulting in ponding water in several sections. The channel was thoroughly cleaned and then coated with two coats of GacoPro to ensure fully waterproofed channel.
Images in this category