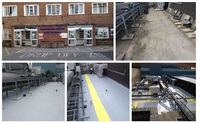 U.K Scarborough Hospital had an asphalted roof area over the operating theaters. Several leaks from years of neglect.
Dewhurst Industrial Solutions, a Lancs based Approved GacoPro Applicator who won the contract carried out the entire 1100m2 project.
The job required the removal of old grift, grinding off of uneven surfaces before eventually applying two coats of GacoPro and marking out walk areas with (yellow) GacoFlex Walkpad.
The Hospital management expressed complete satisfaction with the quality of workmanship and the overall job done.

Images in this category