Roofing Contractors
Professional Roofing Contractors; this website is dedicated to you.
We can help you win more jobs and increase your profits with our unique systems and dedicated team.
Having been a respected supplier direct to the roofing industry for nearly sixty years, Gaco is acutely aware that it is your reputation which is at stake when it comes to getting the job done properly, on budget and on time.

We've got the highest quality, fastest to apply products at most competitive pricing to enable you carry out first class flat roof and low pitched roofing without compromising your profits. Our systems come with the best guarantees in the business at the most competitive rates. Our area of speciality is waterproofing all types of flat and low pitched roofing.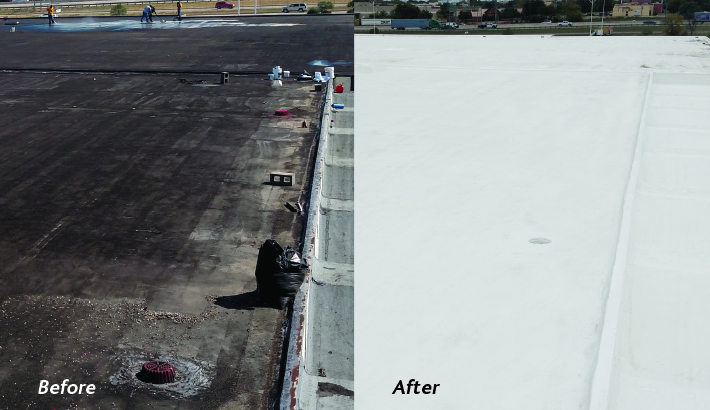 As GacoPro, a single component, liquid applied flat roofing system is very fast to apply with no time wasting application of fleeces, primer etc., you can enjoy improved margins while at the same time offering your hard pressed building owner customers / clients an even better deal than previously possible.
GacoPro Eco is a solvent free roof coating which uses the E5320 two part primer and substrate depending; one coat of GacoPro Eco, allowing you to achieve first class work with ease; at record time.
GacoPro and GacoPro Eco adheres to virtually all flat and low pitched roofing substrates; making it a one size fits all solution for your waterproofing needs.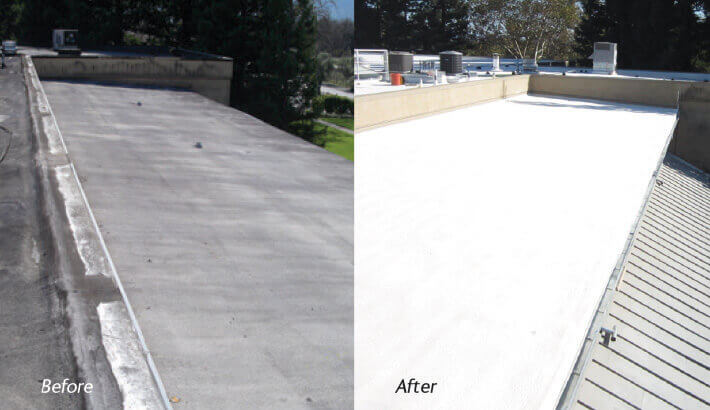 Summary:
GacoPro's unique chemistry & versatility, ease & speed of application offers you many new opportunities to improve your bottom line while at the same time improving your customer's bottom line. Contact us today to find out more about becomming a qualified contractor and adding this innovative, high quality roofing solutions to your companies list of services.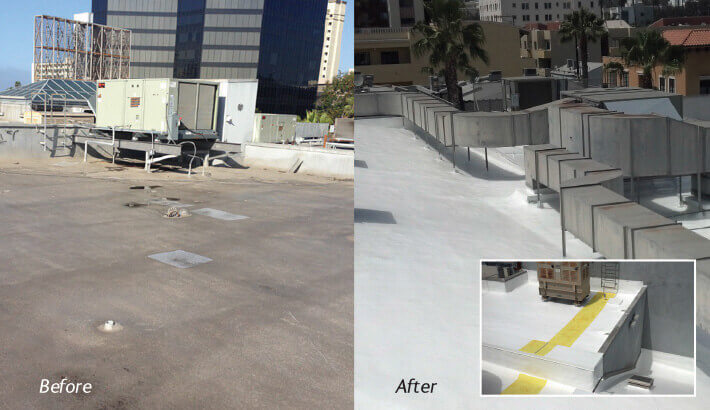 For more information, specifications and quotes contact us seven days a week on:
Call: 00353 867 735 611
Email: info@gacoflatroofingsolutions.com

Download Brochures Here
Gaco Full Brochure & Case Histories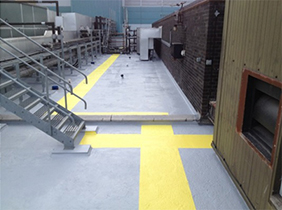 U.K and Ireland:
Gaco Flat Roofing Solutions Ltd, 93-99 Mabgate Business Centre, Leeds, LS9 7DR. Tel 0845 555 8801 / 003531 830 2250
Igoe international Ltd, 135 Slaney Road, Dublin Industrial Estate, Dublin 11. Tel (01) 830 22 50 Mobile Irl 087 245 6078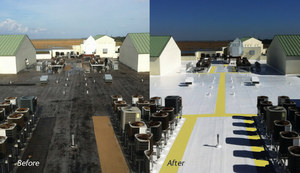 Additional Contractor Opportunities
With ever increasing regulations and downward pressure on margins, Gaco's unique and highly versatile product opens the door to several new revenue streams while it saves your customers huge expense at the same time… win win.
Virtually any kind of flat roofing or low pitched roofing (including valleys) can be brought back to life in a most cost effective way.
This can range anywhere from shopping centres, factories, supermarkets, extensions and so on.
Here are just a few examples…

Felt or asphalt covered flat roofs that would, in the normal course of events, require some tear off / repairs which could easily trigger the new Part L 1b building regulations, i.e. complete insulation upgrade which could drive the entire job cost 'through the Roof' and out of the financial reach of your customer.

If you revitalise the entire flat roof with GacoPro for a very modest cost, you will avoid the tear off / total refurb scenario (unless customer specifies it) and saves a fortune for your customer at the same time. In addition, your customer can expect decades of additional trouble free roof. Asbestos sheeted roofs are big trouble as we all know; removal and disposal of asbestos roofs is outrageously expensive & laden with regulations. Over sheeting is not a cheap option either. One way you can save your customer money is by applying two coats of GacoPro on top of the asbestos roof. GacoPro will completely encapsulate the asbestos and leave a finish that will extend the life of that roof substantially. Thorough cleaning following proper regulatory procedures will of course be necessary, but will still offer a very viable alternative to roof disposal or replacement.

Concrete as well as other gutters frequently require re lining etc. Following a thorough cleaning you can apply two coats of Gaco to 'line' the gutters with an unrivalled long lasting watertight job.
More Weather-Friendly = More Work Done.
We know how unpredictible our weather is… rain followed by more rain, and our share of frost and snow etc.
GacoPro can be applied to clean dry surfaces from roof temp of 1 degree C and up which means you've now a wider window to get flat or low pitched roofing work done. In unsettled weather, GacoPro can be applied if you've got a two hour window before rain. After two hours, rain will not be a problem and the roof will be waterproofed.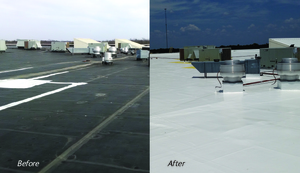 Backed by Gaco Flat Roofing Solutions
Backed by Gaco.
As part of our commitment to you, our approved contractors are backed by a the best guarentees in the business offering 20 and 25 years warranties. Gaco offers a 20 year warranty on GacoPro and a 25 year warranty on GacoPro Eco; so you can rest assured that Gaco has you covered.
Click link below to download GacoPro Eco CE Cert: