Products » Accessories & More Gaco Products
GacoPro Waterproofing Systems and Accessories
System (A) GacoPro -> two coats solvent based silicone system, self priming.
Accessories - Gaco Wash, Gaco Liquid Roof Tape, 66S Reinforcing Tape, Gaco Roof Tape and Gaco WalkPad.
System (B) GacoPro Eco -> one coat of primer and one coat of GacoPro Eco, Solvent Free.
Accessories - Gaco Wash, E5320 Primer, Gaco SeamSeal, 66S Reinforcing Tape, Gaco Roof Tape and Gaco WalkPad
For more information on the GacoPro system accessories and more click below or contact us today for more information.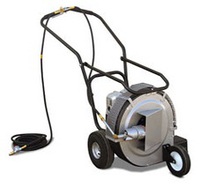 It's been raining again, (surprise surprise!) and nothing other than a freak blast of Sahara sunshine and a strong wind or a truck load of propane gas and a bunch of (un-mentionable) naked flame blow torches will get that roof dry to allow you do your job!!! Oh No!!!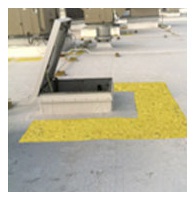 Clearly defined walk area ideal adjacent to roof hatch
WalkPad contains a unique thickening agent in the silicone to provide the durability and resistance to tearing that is needed on rooftop walkways, yet unlike conventional mats that must be laboriously adhered to the roof to prevent blow-off, WalkPad becomes an integral part of the roof.
It can be applied with a brush, trowel, or roller to make the process of creating a walkway surface fast and easy.
The yellow colour provides a highly visible and aesthetic rooftop walkway, and when combined with yellow quartz granules, will offer good traction for pedestrian maintenance traffic.
WalkPad extends our GacoPro silicone product line even further to give contractors an easy-to-use alternative to conventional walk pad products.
U.K. Igoe international Ltd, 93-99 Mabgate Business Centre, Leeds, LS9 7DR.
Tel 0845 555 8801 Mobile (07435) 384 674
Ireland: Igoe international Ltd, 135 Slaney Road, Dublin Industrial Estate,
Dublin 11. Tel (01) 830 22 50 Mobile Irl 087 245 6078 Other website www.igoe.ie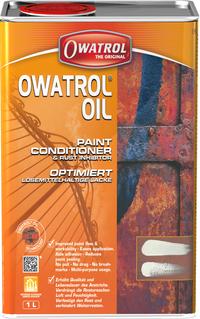 Cut edge corrosion and general corrosion problems on steel roofing can now be solved quickly and cost efficiently with a unique, long lasting solution called Owatrol Oil.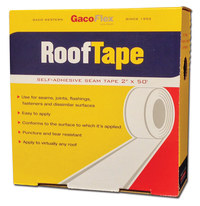 Gaco Roof Tape is a self adhesive seam tape made of light cross linked polymers of butyl and E.P.D.M. rubber coated on fleece backing.
Gaco Roof Tape maintains its elasticity and splice integrity when subjected to severe ultraviolet rays, thermal shock, ponding water, and extremely low temperatures. Reinforce linear meters ready for GacoPro very fast with this useful product.
Comes in 50 ft long rolls.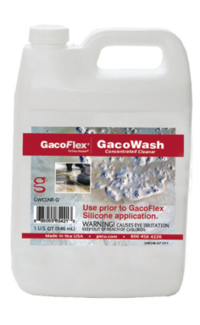 GacoWash Concentrated Cleaner is recommended for cleaning roof membranes and existing waterproof systems.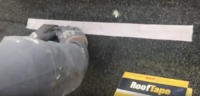 The GacoPro systems come with a choice of tapes including a 2 inch self sticking butyl tape called Gaco Roof Tape and a 4 inch polyester reinforcing fabric called Gaco 66S reinforcing fabric.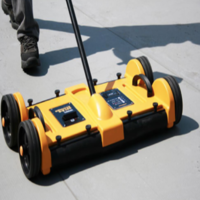 A Multi-Mode, Hand Held, Non-Destructive Moisture Detection instrument for Deep Moisture Scanning, Surveying, and Leak Tracing in the building envelope. Also comes in bigger sizes, ideal when testing to see moisture content in a roof substrate.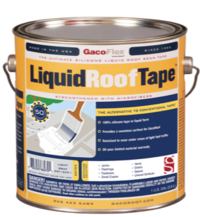 Liquid Roof Tape is a thick, high-build, rubber-like liquid consisting of 100% silicone and microfibers.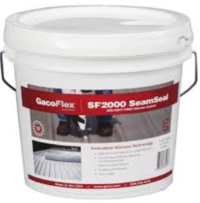 Seamseal: Solvent-Free Reinforced Silicone Sealant
GacoFlex SeamSeal, a silicone-based, solvent-free sealant combined with a reinforcing agent, adheres to seams, fasteners and other roof details in a single application.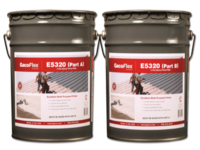 Gaco E5320 Primer: 2-Part Epoxy Primer/Filler
GacoFlex E5320 is a two-component, water-based epoxy primer that is ideal for use on most roofing surfaces including metal roofs and flashings.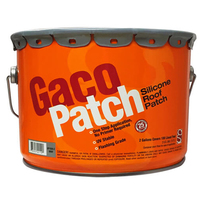 GacoPatch - The Silicone Roof Patch That Lasts
A great product for the simple patch: GacoPatch, a standalone fibre reinforced silicone based roofing repair product is ideal for repairing cracks or splits on all types of flat roofs including felt, asphalt, concrete, metal, single ply and epdm and more.