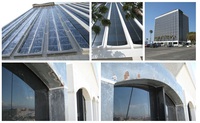 This project refers to front facade on a galvanised steel Oceanside structure built in 1970's in California.
Challenges included rust, curing / drying problems for conventional coatings due to presence of overmight sea moisture.
The solution came from Gaco. Old coatings removed, joints re sealed with silicone caulk and finished off with moisture cured Gaco 100% Silicone White finish. Result is decades of maintenance free attractive appearance.

Images in this category