Products » GacoPro » GacoPro Silicone Roof Coating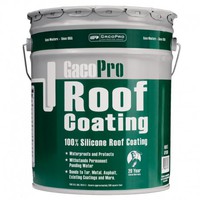 GacoPro is a commercial grade, 100% Silicone, two*coat, single component, moisture-cured, liquid applied overlay roofing coating / waterproofing system that adheres directly to the following:
Aged / weathered Felt, Asphalt, EPDM, TPO & most Single Ply, Asbestos, Steel, Felt, Concrete, Lead, WPB plywood, Fibreglass, Polyurethane etc. Also ideal for valleys, gutters, channels etc.
(*3 coats recommended on new WPB Plywood)
GacoPro – 19 Key Benefits
Up to 50% time saving compared with most other flat / low pitched roof waterproofing systems.

No fleece or mesh required. Gaco Roof Tape or Liquid Roof Tape (new) tape fixes cracks, corners, upstands etc.

No primer required, applies direct, huge time saver.

Can be applied over wide temperature range 0c up to 46c (more winter work possible).

Fast and easy to apply… roll, brush or spray.

Two colour (light grey & white) application, ensures correct coverage.

Once applied – allow a two hour rain-free window & roof is waterproofed.

2 coat, single component roof system, no hardener required, use as required, no waste.

GacoPro 100% Silicone is totally waterproof, even under permanently ponding water.

High reflectivity (of white) slashes roof damaging surface temperature by up to 85%.

GacoPro resists growth of moss, algae etc… stays cleaner longer.

Remains flexible in all conditions

Outperforms Acrylics, Urethanes, & Asphalt coatings.

Reduces summer building cooling costs / saves energy.

20 Year factory warranty on product.

Very competitive per meter material cost

12 months shelf life.

Last but not least… a Win Win for both contractor and property owner.

In many instances, revitalises a flat roof without triggering costly Part L 1b regulations
Testimonials:
Just a few comments, we are collecting more which will be added soon.
"A fantastic product, does exactly what it says on the can"
Edward Hilditch, Environmental Roofing Solutions, Warrington
"It is certainly very easy & quick to use, we'll be using a lot of this going forward"
S Dickenson, London Flat Roofing, Harrow.
"We like it a lot, one of the best flat roofing solutions I've ever come across"
C Howard, Pro-Tec Roofing & Property Maintenance – Bangor N Ireland.
"I wish I'd come across this twenty years ago, it's superb. One of the best flat roofing products I've ever seen" Terry Dolan, Dolan Roofing, Dublin, Rep of Ireland.
"It took me a while to accept that it was as versatile as the claims suggested, but I have to say,
GacoPro is the first solution that comes to mind now for all my flat roofing work" Dave McCarthy. Meath R.O.I.
We are well pleased with the GacoPro. Its totally reliable, fast and easy to use. We've won several
decent jobs this year and lots more in the pipeline. John Munton – Munton Roofing, Leics.
"GacoPro is a first class product. We are very particular about what we use and GacoPro is high on our list for all flat roofing work. Peter Dewhurst, Preston. Lancs.
"We used the GacoPro on a large chimney which was giving trouble and it worked a treat" Andy Railton, Kent.
"Excellent product and great backup" Hugh Thompson – Newcastle
"We wouldn't use anything else now. Took a while to convince us but, we're huge Gaco fans now"
H D Roofing Services – Kildare R.O.I.
"Our customers like it and we like it. Gaco is first on our list for all flat roofing work" Pat Brien – Brien Bros, Dublin.
"We specified Gaco for a very troublesome flat felt / asphalt roof on a landmark pub high up in a rainy mountainside. The roof had several sections added on over the years and had several leaks. Numerous attempts were made to stop the leaks over the years to no avail. After a thorough cleaning, two coats of GacoPro were applied and we opted to go for the white finish. After 18 months of monitoring not one single leak has returned. No question about it, Gaco works" V Traynor Architect.
It is certainly very easy & quick to use, we'll be using a lot of this going forward​.
By S Dickenson, Harrow,
A fantastic product, does exactly what it says on the can.
By Edward Hilditch, Environmental Roofing Solutions, Warrington,