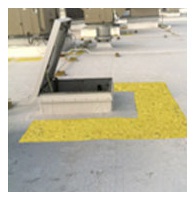 Clearly defined walk area ideal adjacent to roof hatch
WalkPad contains a unique thickening agent in the silicone to provide the durability and resistance to tearing that is needed on rooftop walkways, yet unlike conventional mats that must be laboriously adhered to the roof to prevent blow-off, WalkPad becomes an integral part of the roof.
It can be applied with a brush, trowel, or roller to make the process of creating a walkway surface fast and easy.
The yellow colour provides a highly visible and aesthetic rooftop walkway, and when combined with yellow quartz granules, will offer good traction for pedestrian maintenance traffic.
WalkPad extends our GacoPro silicone product line even further to give contractors an easy-to-use alternative to conventional walk pad products.
U.K. Igoe international Ltd, 93-99 Mabgate Business Centre, Leeds, LS9 7DR.
Tel 0845 555 8801 Mobile (07435) 384 674
Ireland: Igoe international Ltd, 135 Slaney Road, Dublin Industrial Estate,
Dublin 11. Tel (01) 830 22 50 Mobile Irl 087 245 6078 Other website www.igoe.ie
Click to download Technical Specification
A fantastic product, does exactly what it says on the can.
By Edward Hilditch, Environmental Roofing Solutions, Warrington,