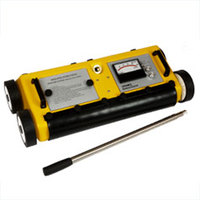 For big roof work, the Tramex Deck Scanner is the ultimate in inspection capabality.
The Deck Scanner is a Mobile, Non-Destructive Moisture Detection Instruments on FOUR Wheels,which allows for quick scanning of a Large Roof areas with Instant, Accurate results.
Material
Roofing (membranes and insulation
Features
Three ranges of sensitivity.

Able to detect as little as 2% excess moisture.

Instantaneous, clear indications of roof conditions.

Continuous operation for uninterrupted coverage.

Locates boundaries of wet areas in minutes.

More than twice as fast as nuclear meters.

Able to test thinner roofs.

No license required.

A fraction of the cost of airborne and on the roof infra-red systems. Easy to use, no training required.

Dependable solid state circuitry and rugged moulded case for long-term reliability.

Heavy duty Aluminium flight case.

Shoulder strap, survey pad and instructions.

Battery powered (included).
Benefits
The Tramex Deck Scanner is the tool of choice for 'big work' identifying moisture problems and locating leaks in commercial roofing systems including roof systems with foam insulation.
With its deep reading, adjustable, non-invasive field, it is possible to find excess moisture, deep down in the material without the need to puncture or damage the roof surface.
The Tramex Deck Scanner takes the guesswork out of roofing inspections and gives you reliable data.
Roofing Contractors, Surveyors, FM professionals choose the Tramex Deck Scanner because, apart from gathering accurate data, it generates an additional source of revenue carrying out roof surveys and demonstrates to the customer thathighest standards are being adhered to by having the best equipment available for the job.
A choice of sensitivity scales
The Dec Scanner is equipped with 3 sensitivity ranges to accommodate virtually all roof surfaces and conditions. SCALE 1: Used over a smooth surface where areas of insulation are saturated and where most of the moisture is close to the surface. SCALE 2: Used over a smooth or gravel surface where insulation may be less saturated and where water has only partially penetrated the insulation. SCALE 3: The most sensitive scale, this is used over gravel surfaces to detect very small quantities of water near the surface, or heavier concentrations at a greater depth.
Warranty
All Tramex products carry a full satisfaction guarantee including a one year warranty against defects in parts & workmanship and a refund if the unit is returned, shipping pre-paid, in new condition within 21 days of original delivery. Proof of purchase is necessary.
Price:
The Tramex Deck Scanner is available from Gaco Flat Roofing Solutions / Igoe International at £4497.00 (exc VAT)
To Order a Tramex Deck Scanner, please contact us through our Contact Us page and we will get right back to you. All major credit cards accepted.