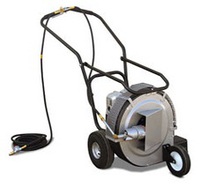 You're already behind time on that flat roofing job; they're phoning asking why it's not done yet…
Every day this drags on is eating into your already tight margins.
It's been raining again, (surprise surprise!) and nothing bar a freak blast of Sahara sunshine and a strong wind or a truck load of propane gas and a bunch of (un-mentionable) naked flame blow torches will get that roof dry to allow you do your job!!! Oh No!!!
At Last…
The answer to your flat roof prayers has arrived… (Also ideal for drying various deck / floor coatings etc)
A piece of kit to get your flat roofing dry in double quick time has finally arrived
It's aptly named…The Little Storm Flat Roof Dryer.
Now you can get your flat roofing jobs bone dry in no time at all in a most cost effective, safe manner enabling you get on with your work whether it be applying GacoPro or some other time / weather sensitive flat roofing project.
The Little Storm's rugged design and user friendly features make it a "Must Have" for today's professional roofing contractor. Use it to dry surfaces after ponding water has been removed or to remove morning dew, frost or light debris.
The Littler Storm Flat Roof Dryer saves you a small fortune in down-time.
The Little Storm Roof Dryer works by combining high heat (up to 177º C) together with a 200 mph jet of hot air to facilitate quick drying and reduce costly downtime. There are no electrical cords or danger of electrical shock.
The Littler Storm Flat Roof Dryer is powered by a reliable 5.5 Horsepower Honda GX Overhead Cam, Premium 4-cycle engine with recoil start. It produces up to 1600 CFM (equivalent to the output of 123 x 3 hp air compressors linked together) per minute or 200 MPH jet-like blast of air that gets your roof dry in quick time.
Heating System Specs:
VT 3-12 S burner, up to 250,000 BTU/hr., mixes with propeller fed air to provide drying effect up to 177°C.All you need is your Propane. Connect to machine; fire it up and away you go.
Fire up your profits now by freeing yourself from the nightmare of being held up by a wet roof when you've got deadlines to meet.
This machine has been known to pay for itself entirely on its very first outing due to costly time saved.

Comes with 25ft of propane hose and regulator.
Large, easy to manoeuvre rear wheels.
Strong frame and safety bars
Propeller safety cage
Easy to lift – only 135 Lbs. / 61kg.
Price: Only £1797 (exc VAT)
Limited Availability – so don't delay.
Check with us for delivery details.